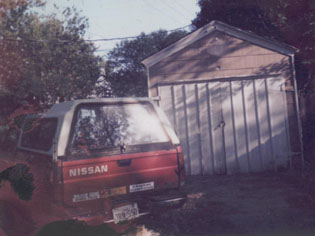 … But I updated the previous story, and in so doing, our newsifier script bumped the story off of the front page and moved it to the archives, leaving this page bare and lonely. So…
I'm getting a Nintendo GameCube tomorrow. As I write this, it's sitting in a UPS hub somewhere in Kentucky. I would like to thank the brave men and women of the U.S. Army, Navy, Air Force, and Marines for making this possible. I think owning a GameCube should make up for missing the meteor shower Sunday morning.
Also, here's a leftover print from a Polaroid transfer that I tried the other week but that didn't work out.
Polaroid transfers
are keen. For the record, Tamara makes beautiful Polaroid transfers, and someone ought to give her a job.
Somebody, quick, post something interesting.