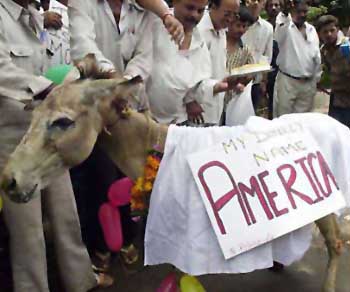 After happening upon a blurb on the Bush family's cat "India" at the
White House web site
*
, outraged Indian protesters have
demanded an apology
from the U.S. consulate, and are now engaged in retaliatory animal-naming.
"Bush named his cat India so we are naming dogs George Bush," Shankar Gaikar, regional coordinator of the [Hindu nationalist group] Bajrang Dal, told Reuters on Tuesday.
According to some U.S. spokesperson, the cat's full name is "India Ink." Because it's dark, see. For what it's worth,
Amy Carter
(herself a veteran protester) had the First Cat with the
best name
.
* Sadly, India the cat has vanished from the site. Just when you thought that protesting didn't make a difference.
Update:
Shit, I just realized that this is cat news. Now I'm doing it without even trying.