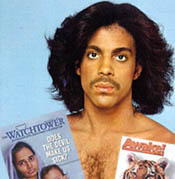 The dirty little man from Minneapolis dropped a bombshell in an interview with Gotham Magazine, whatever that is, when he
renounced cursing
:
When you use those words, you call up all the anger, all the negatives times the word has been used before — you bring it toward yourself. Why would you want that?
Prince, author of such hits as "Head," "Jack U Off," and "Pussy Control," is also a
Jehovah's Witness
, as it turns out, and is creepily concerned about kids and their lack of faith:
When I look at the violence, I wonder where the parents are, but also where is God in their lives? A kid is an open computer ready for programming. Some weird relationships happen, smoking too early and sex.
If anyone has a copy of the full interview, let me know. I feel icky.
In somewhat related news, my hero
James Brown is worried about the kids
, too, and is releasing the track
"Killing's Out and School's In"
to stop the violence. Talking about his latest single, James Brown said:
I'm mad! We're letting these kids get killed out here and we're not doing anything about it.
This move is perfectly in character for the man who, in 1966, recorded "Don't Be a Dropout." James Brown has never let me down.
chris adds:
My dad will be so pleased.
jacob asks:
Why? Does the title go to him now?