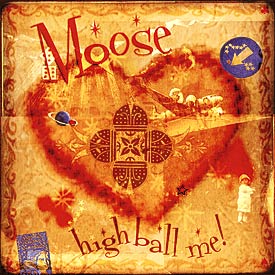 i'm voting for
this album
in the upcoming presidential election. it's called high ball me! and it's been available in england for a while (which is where i got it), but i just noticed in the latest
parasol
update it's available in the US now. james reeder's lovely
moose page
notes it is also available from
darla
. get yourself on napster and listen to "can't get enough of you" or "wonder where i'll go." this album grabbed my heart and squoze it. it even makes robots cry it's so achingly beautiful. the cover even goes well with our color scheme. i am so in tune with moose psychically.
update!
james has graciously informed me that clicking on the space ladies on the
news and links
page of his site will let you listen to some song samples, including a cover of wire's 12XU in its entirety! take
that
minor threat! i haven't listened myself because the songs are for the realplayer, and i'd rather die than install any real product on my computer, but for those who are recklessly inclined… there's a lot of rare tracks, like peel sessions and that lillies shoegazin' supergroup song. go to it! pssst… mp3! realplayer is blah!